In all the excitement (?) of rolling into 2021, I nearly forgot to post a celebratory announcement – Unnatural Order, an anthology containing the first story I ever sold, Trench, is now out there in the world! It's been a weird year already, and celebrating anything feels like its premature, like we're waiting for the catch, but this one. . .I think . . .is definitely a solid 'Yay!' moment for me.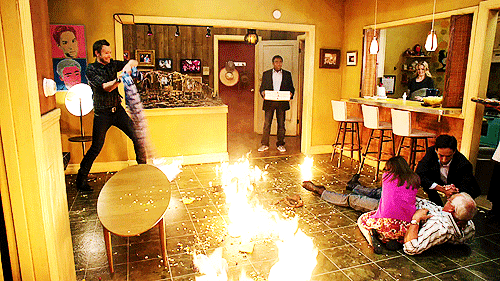 Some may say we're in the Darkest Timeline, but at least there's pizza. . .and publication

Edited by the talented Alis Franklin and Lyss Wickramasinghe (also, go see Lyss's art on IG here – fantastic and amazing), Unnatural Order is all about the perspective of the monsters. Not all the stories are dark, but there are some fantastic horror stories in there. I'm pretty chuffed not only with getting a story out there, but to be listed among some fantastic authors. Aurealis winner Joanne Anderton leads the list ( Wreck Diving is fantastic, a very deserving winner) , and a myriad of amazing authors including Grace Chan  (highly recommend Jigsaw Children in Clarkesworld 161, and looking forward to Every Version of You coming out in 2022), Leife Shallcross, Tansy Rayner Roberts, Matthew Farrer, and a myriad of other talented authors on the table of contents as well. I'm still in that what the heck is my name doing there?! phase, but hey, I'm happy to be included!
I'm keeping this short, because there's only so long I can talk about my excitement over this before the overthinking brain decides that its getting a little self-indulgent, but if you're interesting is rising creatures from the depths of the sea, hive-minds, and dancing, or if you want to (and have the luxury of) reading something other than the news right now, links along with a full list of the authors are below!
CSFG: https://csfg.org.au/product/unnatural-order/
Kobo: https://www.kobo.com/au/en/ebook/unnatural-order-2
Amazon: https://www.amazon.com.au/Unnatural-Anthologies-Canberra-Speculative-Fiction-ebook/dp/B08RMKTQSB/ref=sr_1_1?dchild=1&keywords=unnatural+order&qid=1610492693&s=digital-text&sr=1-1